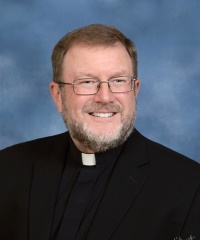 Sunday, November 11, 2018
Dear parishioners and all who are interested,
I want to address "all who are interested." Traditionally in Catholic documents, we have spoken of "people of good will" — that is to say, people who, though not officially Catholic Christians, are united with Catholic Christians in seeking what is good and true and incorporating this goodness and truth in their lives.
We Catholic Christians are called to promote and celebrate what people of various points of view have in common. We believe that, when we establish and rejoice in what diverse people have in common, we can be a gift to one another and can promote deeper justice and peace in the lives of all of us.
So I am stretching my imagination now. When I started a personal website in 1996, I imagined the web to be, in a sense, the ultimate "bulletin board." Anyone in the world could, potentially, look at a given website and receive direction from it. Of course, if we think that we are "giving" direction, we must also have the humility to "receive" direction.
It is necessary that we be aware of the efforts of diverse people coming together to seek the true and the good. I have been fortunate, over the last thirty-plus years, to be involved in organizations promoting harmony among people of differing religious heritages. Within the household of Christianity, the Illinois Conference of Churches (illinoisconferenceofchurches.org) is the official ecumenical body in our state; I currently serve on its Leadership Team. When I lived in the Springfield area, I greatly enjoyed activity in the Greater Springfield Interfaith Association (gsia.info). Currently I am on the steering committee of the Metro East Interfaith Partnership (metroeastinterfaith.org).
Christians profess a personal bond with Jesus of Nazareth. The word personal is extremely important to appreciate, as it helps to explain our devotion to the Son of God who lovingly saw fit to unite himself with humanity by becoming human himself.
Fr. Kevin