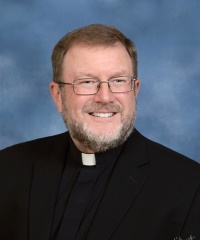 Sunday, January 26, 2020
I trust that you are looking forward to the St. Jerome & St. James "Lenten Speaker Series." I will be leading off with "Vatican II: The Positive Council" at 6:45 pm on Thursday, February 27 (the day after Ash Wednesday) at St. James, 305 Washington Street, St. Jacob. Here is an online resource which you may find helpful in coming to understand Vatican II: Vatican II Voice, a British site dedicated to continuous study of the Council and its call for renewal.
Saturday, January 25, 2020
Wikipedia now has six million articles in English! For years now, I have found Wikipedia to be an invaluable resource, and a lot of fun. Wikipedia is determined never to accept advertising. It is worth supporting financially, as I do monthly with an automatic transfer from my checking account. The management of Wikipedia says that 98% of users do not contribute. I like to think that contributions to Wikipedia are helping bright kids in isolated places where books are scarce.
Friday, January 24, 2020
I'm sorry to be so lax in presenting resources here. Recently someone was discussing with me the electronic option for receiving Catholic Times -- my own preferred way of getting it. All you have to do is visit Catholic Times Go Green.
Friday, Dec 13, 2019
My next Catholic Times column will be on the theologian Johann Baptist Metz, who died on December 2. See his New York Times obituary.
Saturday, October 12, 2019
Is intelligence overrated? Emotional Intelligence is in fact what we want more of! Daniel Goleman's 1995 book answers many questions nagging at us, as we ask, "Why can't people collaborate successfully -- or just get along?"
Friday, October 11, 2019
Today is the memorial of St. John XXIII, who on this day in 1962 opened the Second Vatican Council. See the my 1992 speech on Pope John and the Council.
U.S. Bishops' 2019 Labor Day Statement
Monday, September 9, 2019
I'd like to share a secret. This link takes you to an online archive of Catholic Times issues from 2015. Unfortunately, approximately the first 44 issues in the collection are, on their individual links, undated.
Monday, September 2, 2019
Here is a discussion, from Psychology Today, on misconceptions about clergy sexual abuse of minors in the Catholic Church.
Wednesday, August 21, 2019
END-OF-LIFE ISSUES. The Illinois Conference of Churches has created a resource on what we all have to work through when we ourselves, or people close to us, approach death. Go to the Illinois Conference of Churches, hover over "End-of-Life Issues," and find the menu of resources.
Tuesday, August 13, 2019
Sister Helen Prejean has a new memoir, River of Fire. I have not read it yet, but it appears to be a must-read. She is forthright about the numerous conversions she has experienced. Read about it here.
Sunday, August 11, 2019
Here is a report on a priest in El Paso and what he has experienced in attending to grieving families.
Wednesday, August 7, 2019
Read the biography of Father Augustus Tolton written by the late Father Roy Bauer of our diocese.
Sunday, August 4, 2019
Bishop Mark Seitz of El Paso, quoted in The New York Times:
"In the last several months, the borderlands have shown the world that generosity, compassion and human dignity are more powerful than the forces of division. The great sickness of our time is that we have forgotten how to be compassionate, generous and humane. Everything is competition. Everything is greed. Everything is cold. Tenderness and the love that knows no borders are crucified in a whirlwind of deadly self-seeking, fear and vindictiveness."
Tuesday, July 30, 2019
We all must be aware of the International Catholic Migration Commission, based in Geneva, with a U.S. office in Boston.
Monday, July 29, 2019
It was on this day in 1853 that our diocese, the first suffragan of Chicago, was established by Blessed Pius IX, as the southernmost 56 counties in Illinois, and designated the Diocese of Quincy. In 1857 the see was transferred to Alton. In 1887 the southernmost 28 counties were designated as the Diocese of Belleville. In 1923 the see was transferred to Springfield, and the diocese became known as the Diocese of Springfield in Illinois (Dioecesis Campifontis in Illinois), because a Diocese of Springfield -- in Massachusetts -- already existed.
Monday, July 22, 2019
We remember that Pope Francis recently upgraded St. Mary Magdalene's celebration on this date from a memorial to a feast. In fact, there is a writing on the Vatican site about Mary Magdalene's role as "apostle of the apostles" in witnessing Jesus' resurrection.
Sunday, July 21, 2019
I guess I still have not written anything about my "Sunday Homilies" podcasts. Podcasting was invented in 2004, and in 2005, my dear lifelong friend Brian Noe got me set up in podcasting. My Sunday homilies reside on a site with recordings dating back to 2005. You can subscribe to the podcast through iTunes. I generally wait until I have about four weeks' worth of homilies before I upload them. I usually record the homily at my Sunday 8:30 am Mass, since that is the third of four times I give the homily and I trust that by then I really know what I want to say.
Saturday, July 20, 2019
On this 50th anniversary of the first moon walk, you may find interesting this account of the religious ceremony conducted by Buzz Aldrin within the lunar module Eagle at Tranquility Base: Joanna Moorhead in The Tablet: Communion on the Moon.
Friday, July 19, 2019
Another Catholic news source: La Croix International, which began publishing in English a couple of years ago. For $3.90 per month, I get a daily email with links to the latest stories. La Croix is based in France and gives an international perspective on the Church.
Thursday, July 18, 2019
In the August 4 bulletin, you will find a column on the Vatican's efforts to "go green." That column refers to Laudato Si', the 2015 encyclical of Pope Francis on care for our common home, the earth.
Wednesday, July 17, 2019
Our diocesan site has changed numerous times, and I don't feel especially well qualified to give anybody a tour. Perhaps the most helpful thing you can access is the Diocesan Directory.
Tuesday, July 16, 2019
You can find many, many Bibles online. What I would call our "official" Bible site is at the U.S. Conference of Catholic Bishops. The USCCB holds the copyright on The New American Bible, Revised Edition, the translation used at Mass. You can look up Lectionary readings day by day, peruse the Bible proper, and get podcasts of each day's readings.
Monday, July 15, 2019
I'd like to bring to your attention some helpful materials on basic emotional health. I call them my essays on feelings and the Dr. Margarett Schlientz Notes. When you look at my essays on feelings, be sure to follow the links to anger, fear, and love!
Sunday, July 14, 2019
Back to the topic of good things I do not read: Everyone should be familiar with The National Catholic Reporter of Kansas City. I am not a regular reader because some years ago, I found that reading it just got me depressed. It is an excellent source for news of the Church in the United States.
Saturday, July 13, 2019
Do you want to explore the worldwide structure of the Catholic Church? One good source is GCatholic.org, with its list of national conferences of bishops. You can drill down from national conferences to individual dioceses and then to individual parishes. You will also find catholic-hierarchy.org to be quite helpful. There is also an extensive discussion of national conferences of bishops at Wikipedia.
Friday, July 12, 2019
Religion, Politics, Culture. You have been hearing a lot about the magazine Commonweal lately. This venerable Catholic magazine, published in New York by lay Catholics, is approaching its 100th anniversary. We have a Commonweal Local Community (discussion group) which tackles tough topics with the help of Commonweal's very thoughtful articles. This publication has been appearing 20 times a year. Beginning in September, the magazine will begin an 11-issues-a-year schedule. Click here to take advantage of a special offer: one year of Commonweal for $9.95.
Thursday, July 11, 2019
I have just read a gem of an article in The Atlantic. Entitled "Your Professional Decline Is Coming (Much) Sooner Than You Think," this piece by Arthur C. Brooks is essential reading for all of us as we seek to negotiate the inevitable changes coming with aging. We must learn how to understand the meaning of our lives in light of hard-won wisdom and new opportunities for service. Read it here.
Wednesday, July 10, 2019
Our parishes need someone who can serve as an advocate for people presenting petitions to our diocesan tribunal for possible declarations of nullity of past marriages and establishment of freedom to enter a new marriage in the Catholic Church. You can learn the broad strokes of this Church judicial process by consulting the FAQs, the description of the defective-consent process, and a Catholic Times story from 2007 on the Church's tribunal processes. All of these are on our diocesan site. Or just contact me.
Tuesday, July 9, 2019
On this day in 1897, Father Augustus Tolton died in Chicago of heat stroke at age 43. Earlier, I posted a link to Fr. Tolton's Wikipedia page. You might also enjoy the material found on the Archdiocese of Chicago site. Fr. Tolton's cause for canonization began in Chicago, where he died. Fr. Tolton served for eight years in Chicago, after three years in Quincy.
Monday, July 8, 2019
In 1992 I gave a speech, before an interfaith audience, about the Second Vatican Council. I find that this speech has held up well as the years and decades have passed. You can read it here: Father Kevin Laughery on Vatican II.
Sunday, July 7, 2019
Christian unity is a mandate for all Christians. There is only one Jesus; therefore there can be only one Christianity, and all of us must strive to see to it that the Christian people enjoy the unity which Jesus intends for his people. The World Council of Churches is the international focus for seeking this unity. You may find it interesting to review the Council's efforts to establish a common Easter Day for Christians of the East and West.
Saturday, July 6, 2019
For nearly 40 years, I have been reading The Tablet, the international Catholic weekly published in London. Take a peek at the site and see how this publication embraces the entire world of Catholicism.
Friday, July 5, 2019
The Dominican Sisters of Springfield, Illinois, have a rich history, and they continue to make history. They remind us to care for the earth and to practice justice. Dominicans are the "Order of Preachers."
Thursday, July 4, 2019
On this Independence Day, we might want to look into the history of the Catholic Church in the United States. The U.S. Conference of Catholic Bishops provides a timeline of their organization from 1917 to 2017, as well as a general history of Catholics in the U.S. We must consider the life of the Venerable Augustus Tolton, priest of our diocese, to be a microcosm of the struggles of our Church and nation.
Wednesday, July 3, 2019
It is important that we know our way around the Vatican website. Resources in English are gradually being added. People who read and speak English can go to the link at the end of this paragraph. What will we find? First, all things relating to Pope Francis. Second, the entire series of "Supreme Pontiffs" -- the links being the round mosaic portraits of each pope as they appear in the interior of the Roman Basilica of St. Paul Outside the Walls. Third, "Liturgical Celebrations, Roman Curia, Other Offices, Resource Library" -- of which the Resource Library is of particular importance. Fourth, a variety of Vatican-related things, including "Abuse of Minors: The Church's Response." Start exploring!
Tuesday, July 2, 2019
John Henry Newman will be canonized on October 13! This is not St. John Neumann, for whom the school is named. Regular visitors will pick up on the fact that I am a Wikipedia fan. You can read up on both saints: St. John Neumann; Blessed John Henry Newman.
Monday, July 1, 2019
Back to Scripture: You may be interested in a resource which I started working on even before I ever got online. Back in 1993, it occurred to me that text files of the readings assigned for Mass each day would be very helpful to me and others, year after year. So I recommend to you my own web pages of liturgical calendars, which are easily copied and can be kept in the Bible you are reading.
Sunday, June 30, 2019
We may wonder how we Catholic Christians are to keep up with all the news of the Church throughout the world. I have recommendations. In keeping with the idea that this daily entry will focus on one online source at a time, I will give you a variety of good news sources, but spread across the days and weeks.
It seems to make sense to me to ask my parishioners to read things I do not necessarily read. And I may as well start with the magazine America. I have not read this publication in many years, but I do recommend it, not least because of the leadership of Father James Martin, S.J., an outstanding voice for the Catholic Church both in the U.S. and worldwide.
Saturday, June 29, 2019
The first thing which you and I need to immerse ourselves in is THE WORD OF GOD -- that is to say, the Bible, Sacred Scripture. It is important for us to prepare for Sunday Mass by reflecting in advance upon the upcoming Sunday Scriptures. One great help to us is the daily lectionary feature on the website of the U.S. Conference of Catholic Bishops.
Friday, June 28, 2019
You have been told about the event being held at the Highland K of C on Tuesday, July 16, 10:30 am to 2:30 pm, regarding the experiences of people of the Springfield and Belleville Dioceses who have traveled to sister parishes in Guatemala. Lunch is free but you need to RSVP. There will also be information on a projected Guatemala trip in 2020. More info. I have been to Guatemala three times myself.
Thursday, June 27, 2019
I am glad you are back here, and I am glad to be able now to provide you, on a quite frequent basis, with online resources which will help us all as we live our Catholic Christian faith in Jesus.
We can never forget our responsibility to establish justice within our human family. We rightly question whether justice is being done in many spheres of human activity. If you are wondering about the southern border of the United States, I recommend this compilation of ways to help. It may well be that contacts at our national bishops' conference will be useful.
Wednesday, June 26, 2019
It has taken me some time to get myself oriented toward updating this page myself. I am happy to be back in this "corner," which in fact is expansive and allows us to explore our "big small world" of faith.
Sunday, November 11, 2018
Dear parishioners and all who are interested,
I want to address "all who are interested." Traditionally in Catholic documents, we have spoken of "people of good will" — that is to say, people who, though not officially Catholic Christians, are united with Catholic Christians in seeking what is good and true and incorporating this goodness and truth in their lives.
We Catholic Christians are called to promote and celebrate what people of various points of view have in common. We believe that, when we establish and rejoice in what diverse people have in common, we can be a gift to one another and can promote deeper justice and peace in the lives of all of us.
So I am stretching my imagination now. When I started a personal website in 1996, I imagined the web to be, in a sense, the ultimate "bulletin board." Anyone in the world could, potentially, look at a given website and receive direction from it. Of course, if we think that we are "giving" direction, we must also have the humility to "receive" direction.
It is necessary that we be aware of the efforts of diverse people coming together to seek the true and the good. I have been fortunate, over the last thirty-plus years, to be involved in organizations promoting harmony among people of differing religious heritages. Within the household of Christianity, the Illinois Conference of Churches is the official ecumenical body in our state; I currently serve on its Leadership Team. When I lived in the Springfield area, I greatly enjoyed activity in the Greater Springfield Interfaith Association. Currently I am on the steering committee of the Metro East Interfaith Partnership.
Christians profess a personal bond with Jesus of Nazareth. The word personal is extremely important to appreciate, as it helps to explain our devotion to the Son of God who lovingly saw fit to unite himself with humanity by becoming human himself.
Fr. Kevin